Pool inspections to avoid costly problems
A thorough pool inspection can help avoid unwanted headaches and potentially high expenses. We recommend having a pool inspection before purchasing a home (in conjunction with a traditional home inspection), to avoid costly repairs and prevent future headaches. Our inspectors look at plumbing, filtration, maintenance equipment, and the condition of the pool lining.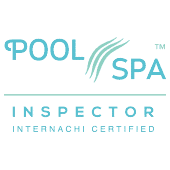 Safety features are considered during the inspection. Perimeter fences, pool alarms, safety gate locks, and self-closing latches are some common features observed during the inspection. Our reports will address these concerns, giving you the ability to ask the seller to either remedy the issue or provide you with a credit on the final purchase price - so you can make the improvements as needed.
Physical condition checked
Physical conditions of the deck, pool plaster/lining, tile, and coping are also inspected. We pay attention to subtle items like the grout between stones in a rock waterfall or uneven spots in a deck. Coping material around the pool area should be stable without loose or seriously chipped pieces, stains or cracks. The grout between each piece should be in good condition. If deep cracks are observed, it could indicate shifting in the deck structure.
Turn on all pool equipment
We turn on all pool equipment and observe its functionality under normal conditions. Any unusual noises are documented. Leaks are investigated. We take an infrared temperature reading of the pool pump to determine if it's working too hard. If the pool has a heater installed, we also inspect various aspects of the heating unit.
Inspection Services Trusted by Owners in Pensacola